Bear River High School
Class of 1961
In Memory
Colleen Germer (Richards)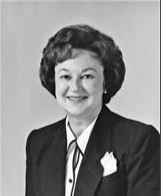 Colleen Germer Richards, a beautiful daughter of God, passed away February 20, 2020 at Maple Springs in Brigham City, Utah. She was born in Brigham City, Utah on July 25, 1943, a daughter of Jack Edwin Germer and Bernice Nichols Germer, and was raised on the family farm in Deweyville. She graduated from Bear River High School and later from BYU with a Bachelor of Science degree. She was an employee supervisor at the Grand Canyon National Park for two summers. Colleen taught high school in Lodi, California and returned to Provo, Utah where she was employed as the business office manager for KBYU TV and FM radio. She also worked as an on-air host/producer of KBYU TV's "Religion Today" program. Colleen was the first woman to serve as Chairman of BYU's Administrative Advisory Council. In 1981, she became Director of U.S. Congressman James V. Hansen's Provo office. She moved to Salt Lake City in 1984 and was employed by Intermountain Healthcare as an assistant to the administrator of LDS Hospital and at the corporate headquarters. In 1987, she became an administrative assistant for the Utah State Department of Administrative Services.
Colleen married Derrill H. Richards in the Salt Lake Temple on August 21, 1989. Derrill and Colleen served a three year mission where they presided over the Pennsylvania Harrisburg mission from 1990 through 1993. Derrill served as a counselor in the Salt Lake Temple presidency, and Colleen as an assistant to the matron. They subsequently presided together as President and Matron of the Salt Lake Temple.
Her church callings included serving as a member of the Stake Relief Society Board, Relief Society Counselor and Secretary, Counselor in a ward YWMIA presidency, Relief Society President in a Branch at the LDS Hospital, and as a Relief Society Teacher.
Colleen was preceded in death by her husband, Derrill, her parents, a brother, Scott Germer, and a brother-in-law, Kent Hughes.
She is survived by two sisters, Deanne Hughes, Bonnie Fronk (James) and a sister-in-law, Joyce Christensen Germer, five nieces and one nephew, Derrill's six children, Susan Wiser (Kent), Bruce Richards (Nancy), Gary Richards (Kathy), Diane Burningham (Dave), Scott Richards (Mary Ann), and Cheryl Janzen (Wayne), a brother-in-law Stanley Richards, 22 grandchildren, and numerous great grandchildren.
Funeral Services will be held at Larkin Mortuary, 260 East South Temple, Salt Lake City, on Friday, February 28, 2020 at 11:00 am, with a viewing from 9:30 to 10:45 am. Interment will be at the Farmington City Cemetery.
The family extends our thanks to the caregivers at Maple Springs and the wonderful hospice workers. In lieu of flowers, it is suggested that a contribution be made to the missionary fund of the Church of Jesus Christ of Latter Day Saints.