Bear River High School
Class of 1961
In Memory
Darlene Holdaway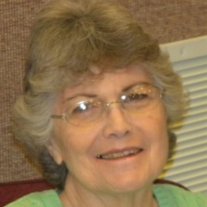 Darlene Christensen, age 69, died peacefully in her home on March 11, 2013 after a brief struggle with a rare aggressive cancer. Darlene was born on September 30, 1943 in Tremonton, Utah and grew up in Deweyville, Utah. She was preceded in death by her parents David B. and Reta Holdaway. Darlene was married to her sweetheart Dennis Paul Christensen for over 48 years and sealed in the Manti Temple. She lived in the Tri-Cities area since 1981 and has been a resident of Kennewick for the past 21 years.

She leaves behind her loving husband Dennis Paul Christensen and their nine children and spouses: Donna (Vaughn) Young, Richard (Carey) Christensen, Suzanne (Paul) Boehning, Robert (Angela) Christensen, Bryan (Linda) Christensen, Diane Halo, Annette (Gabriel) Sims, Angela (Kilioni) Fuluvaka, and Stephanie Christensen. She was the loving grandmother of 22 grandchildren. She is survived by brothers: LaMar Holdaway, Justin Holdaway, Boyd Holdaway, Keith Holdaway, and one sisters Carlyon Holdaway Pierce. She is preceded in death by her brother Dennis Holdaway.

Darlene lived a life of humility, faithfulness, charity, selflessness, and obedience. She was an avid genealogist and loved temple work. She was happiest when serving others and having family and friends around her. She was a Christ-like example and loyal friend. She held unwavering faith in her savior, Jesus Christ and was his obedient servant. She will be missed greatly.

There will be a viewing at Mueller's Tri-Cities Funeral Home, 1401 S. Union, Kennewick, Washington, on Thursday March 14, 2013 from 5-8 p.m. There will also be a viewing an hour before service. The funeral service will be on March 15, 2013 at 1:00 p.m. at the Church of Jesus Christ of Latter Day Saints 45th and Olympia Chapel in Kennewick, Washington. The burial will follow at Riverview Heights Cemetery.