Bear River High School
Class of 1961
In Memory
Melvin Kupfer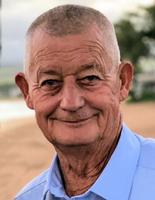 Melvin Leon Kupfer
JULY 27, 1943 ~ MARCH 29, 2019 (AGE 75)
Melvin Leon Kupfer (75) passed away on March 29, 2019 in Tremonton, Utah. He was born on July 27, 1943 in Rockyford, Colorado to Alvin Leon Kupfer and Cathryn Clara Canfield. Mel married Jolene Westmoreland, they later divorced. He married Marva Oyler on February 7, 1966 in Tremonton, Utah. They were later sealed in The Church of Jesus Christ of Latter-day Saints Logan temple on May 8, 1967.
Mel served in the military, 101st Airborne, stationed in Thailand during the Vietnam War. He lived in Tennessee, Salt Lake City, UT, and Tremonton, UT throughout his life. He worked as a diesel mechanic, farmer, and owner of Kupfer Construction.
He is a member of The Church of Jesus Christ of Latter-day Saints.
Mel is survived by his wife Marva Oyler Kupfer, their six children; Larry (Tracee) Westmoreland, Kim (Thayne) Hardy, Mechelle (Troy) Dawson, Cindy (Khang) Vu, Jennifer Kupfer, and Jeremy Kupfer, 19 grandchildren, and 4 great-grandchildren.
He is preceded in death by his parents Alvin and Cathryn, two sisters; Vera Fulmore and Cora Misrasi, and one grandson, Brenden Dawson.
A visitation will be held on Friday, April 5, 2019 from 4-7 p.m. at the Tremonton 3rd Ward building (9590 N. 6800 W. Tremonton) with a memorial at 7 p.m. following the visitation.
Special thanks to all the friends and family that are to numerous too name. We thank you for your love and support. He loved you, as do we. Thank you for all you do.