Bear River High School
Class of 1961
In Memory
Gail Marble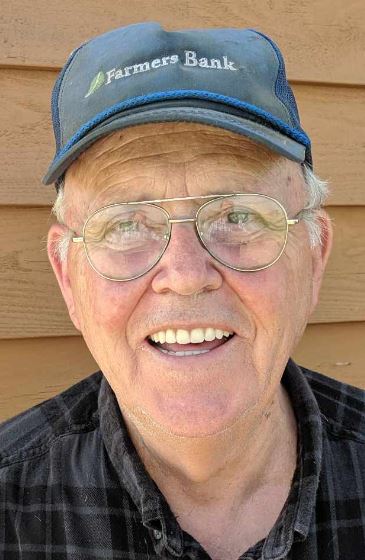 Gail Francis Marble passed peacefully in his sleep on January 2, 2022. One of his last acts was helping a neighbor feed his farm animals due to winter storm conditions. This act sums up so much of what was important to Gail: a willingness to help anyone in need, a love of farm animals, being prepared in an emergency situation and driving his tractor.
Never a man to let facts get in the way of a good story, Gail had a natural ability to put people at ease and often had them laughing along with him. He had a lively sense of humor and was always ready with a joke. "Have you heard the one about a man at a carnival with a pie?" He was humble enough to even allow himself the brunt of some of his jokes. Did you know that he was one of few men, mistakenly invited to join some of USU's sororities? With a name like Gail Francis, the best way to get through life was with laughter.
This gift of charming others set Gail apart in school at BYU, in business and in his church service. Gail's consistent faith in the Gospel of Jesus Christ carried him through many bumps in the road of life.
Gail would say that second only to God, came family, both those that preceded him and those he felt grateful to have shared his life with. With marriage to the love of his life, Denna, they raised 9 children and enjoyed grandparenthood together until Denna's passing. He then married and enjoyed the companionship of Colleen these past 9 years. Everyone was family to Gail, especially Colleen's 6 children and their families.
Gail was preceded in death by his parents, Hyrum and Phyllis; wife, Denna; brother, Bruce; infant daughters, Jennifer and Kristal; and other extended family members. He is survived by his children, Sonja (John), David (Kristen), Joseph (Kayleen), Jonathan (Katie), Freeman (Stephanie), Amy, Emily (Matt), Jeffrey (Sarah), and Rachel (Peter); 38 grandchildren; an ever-growing number of great grandchildren; Colleen's family; and a vast extended family.
Services will be held both in Missouri and in Utah.
Missouri services will be held on Friday, January 7th at the Church of Jesus Christ of Latter-Day Saints; 211 Ash St, Gallatin, Missouri. Funeral at 11am and a viewing preceding it at 10am.
Utah services will be held on Saturday, January 22nd at the Church of Jesus Christ of Latter-Day Saints (Provo Peak 9th ward); 965 North Locust Lane, Provo, Utah. Services at 11am. Graveside service in Provo City Cemetery immediately following.
Gail would most likely suggest that in lieu of flowers, update your emergency preparedness supplies or provide memorial contributions to the Caldwell County COAD (CERT) in care of the Stith Funeral Home in Gallatin, (660) 663-2117. Online guestbook at www.stithfamilyfunerals.com
Utah services and interment under the direction of Utah Valley Mortuary in Pleasant Grove, UT.