Bear River High School
Class of 1961
In Memory
Twylla Marshall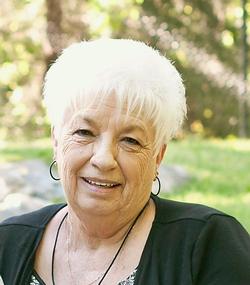 Twylla Marshall Price age 71 passed away peacefully at the home of her daughter and son in law on Tuesday, March 4th, 2014 surrounded by her family after a courageous battle with cancer.
Twylla was born in Tremonton, Utah on November 1st, 1942 to Chesley and Maxine Marshall. Twylla attended Bear River High School and later received her GED.
Twylla married Gene Victor in 1962 and had her first child Shana. They were later divorced. Twylla then met the love of her life Merrill in January of 1968. They were married in Samaria, Idaho on November 22, 1969.
Twylla and Merrill lived in Ogden where they raised four beautiful children Shana, Teressa, Evan and Ryan. She was also privileged to raise her only sister Michelle after the passing of their parents. Merrill and Twylla moved to Samaria in 1996 where they had the honor of raising their granddaughter Shaelynn after the passing of her parents Jeff and Shana.
Twylla took pride in being a housewife and having the ability to be at home to raise her children. Twylla had a great love for her family, friends, and her grandchildren. "Grandma Idaho" enjoyed having the grand kids come stay with her and loved making treats for them and was always entertaining them. Twylla was her children's and grand children's biggest fan always supporting them in their adventures whether it was scouts, sports or dance.
Twylla enjoyed camping in Laplatta with family and friends, her "me" time getting her hair and nails done, and bowling on Friday nights with Merrill. She also loved having family over for reunions, Easter picnics and Memorial weekends.
Twylla is survived by her husband Merrill, one daughter, Teressa (Jerrod) Hirst; two sons, Evan (Jenny) and Ryan; Four brothers, Luke (Maleea), Brent (Rhonda), John (Karlene), Paul (Penny) and one sister Michelle (Curtis). Seven grandchildren: T. Jay, Amber, Shaelynn, Spencer, Cole, Casey, Kevin and 10 great grandchildren.
She was preceded in death by her parents, her daughter Shana and son in law Jeff Larsson.
Funeral services will be held on Saturday March 8, 2014 at 12 noon in the Malad LDS 2nd Ward Chapel, 20 S. 100 W. Friends may visit with the Price family on Friday evening from 6-8 pm at the Horsley Funeral Home 132 W. 300 N. and on Saturday at the funeral home from 10:30-11:30 am. The family would like to extend a special thanks to the staff at Intermountain Hospice for the care of our mother