Bear River High School
Class of 1961
In Memory
Sandra Potter (Shaffer)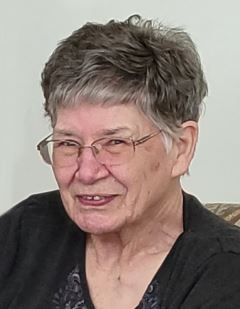 Sandra Shaffer
July 3, 1943 — August 21, 2023
Our sweet mother, grandmother, and friend peacefully passed away on August 21, 2023 in her home in East Garland, Utah at the age of 80. Sandra was born in Tremonton, Utah to Dorothy May Barnard Potter and William (Bill) Bethel Potter. She often told us that her father left for WWII when her mom was only 3 months pregnant. He was able to come home on leave when Sandra was 3 days old and then he came home from the war when she was nearly 3 years old. She had a very special bond with both parents.
Although she was an only child, she had a wonderful childhood growing up in East Garland. She had many friends and cousins to play with and she was able to travel many places with her parents. She was raised with many grandparents, aunts & uncles living nearby. When one set of her grandparents moved away, her dad would often fly the family to Carey, Idaho on Sunday afternoons to visit and have Sunday dinner. Then they would fly home.
Sandra graduated from Bear River High School, as well as LDS Seminary in 1961. She married Richard Leroy Shaffer (also from East Garland) on November 8th,1962. Richard is the son of Jasper Woods Shaffer and Donna Oyler Shaffer. She lived her whole life in the same community, moving near her childhood home to start her life with Richard. She lived in the same home for her entire married life. They raised four children on a farm, emphasizing responsibility and hard work. Her home and family were her priorities. She loved her children and was especially welcoming to those who joined the family through marriage.
Sandra worked at Thiokol for a few years before she started raising her children. Once her children were older she began working for the school lunch program at various schools, eventually retiring from Fielding Elementary. She sure enjoyed the relationships made during those years.
Richard and Sandra were members of the Box Elder County Sheriff's Posse for years and enjoyed the associations made there. Life-long friendships that have blessed their family's lives were fostered during the many camping trips and experiences in that organization. She also spent many winter weekends attending chariot races supporting her husband and sons.
They both enjoyed working to improve their property at Lava Ranch. They spent many, many hours creating a beautiful place in the mountains where they could vacation and be with their children and watch their grandchildren play with their cousins. It fostered many happy family memories.
Sandra lived her life in service of others. She devoted her time and talents to family, friends, and church. She was a member of The Church of Jesus Christ of Latter-day Saints and held many callings. As an Achievement Days leader, she loved the girls and went above and beyond in preparing activities for them. She had a talent for embroidery, crocheting, and quilting. She made hundreds of receiving blankets for the new babies in her ward. Many pieces of her handiwork have been and will continue to be treasured by her family and members of the community.
Sandra is survived by her husband Richard, Shelley Reynolds, Roy (Patti) Shaffer, Shannon (Ron) Norman, and Ric (Shamra) Shaffer. They have 12 grandchildren and 10 great-grandchildren.
She is preceded in death by her parents, son-in-law Everett Reynolds, and granddaughter Kimber Lee Shaffer.
Funeral services will be held on Friday, September 1, 2023 at 11:00 A.M. at the Fielding Stake Center (4375 W 15600 N- Garland). Viewings will be held on Thursday, August 31 from 6-8:00 P.M. at Rogers & Taylor Funeral Home (111 N 100 E Tremonton) and prior to the church service from 9:30-10:30 A.M. Interment will be held in the East Garland Cemetery. The service will be livestreamed.