Bear River High School
Class of 1961
In Memory
Roger Nelson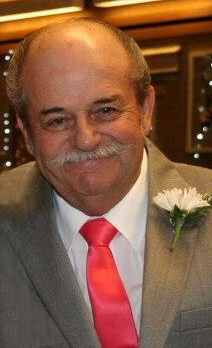 Roger Lee Nelson, 71, passed away at his home surrounded by his family, on September 2, 2015. He was born to J. Glen Nelson & Alice Mello Nelson in Bolinas, California on October 30, 1943. He married Gloria Burnett on July 15, 1960 in Salt Lake City, Utah.
Roger was self-employed at Roger Nelson & Sons where he worked with his son Dusty and was a local fuel distributor. He also worked for Jardine Petroleum & Cardwell Oil. He retired from Cardwell Oil in 2012.
He loved his family and loved to spend time with them. He enjoyed trap shooting. He has won many belt buckles for his trap shooting skills. He loved fast cars, snowmobiling, hunting & fishing with his family, semi-trucks, polishing rocks and attending all of his grandchildren's events.
Roger was a member of the Tremonton Fire Department, the Golden Spike Trap Club and a member of the Church of Jesus Christ of Latter-day Saints.
He is survived by his wife Gloria; two sons & one daughter: Rocky (Lori) Nelson, (Heber, AZ), Sandy (Greg) Madsen, (Garland, UT) & Dusty (Belinda) Nelson, (Elwood, UT); eight grandchildren; ten great grandchildren with one on the way; one brother Bernard (Utana) Nelson (Elwood, UT) and one sister Debra (Ted) Roundy (Honeyville, UT).
Roger was preceded in death by his parents and grandparents Joseph & Fossie Nelson and John & Mary Mello.
Funeral services for Roger will be held on Tuesday, September 8, 2015 at 11:00 a.m. at the Tremonton South Stake Center (1150 S. Tremont St.). Viewings will be held on Monday evening September 7, 2015 from 6-8 p.m. at the Rogers & Taylor Funeral Home (111 N. 100 E., Tremonton, UT) and at the church prior to the service from 9:00- 10:30 a.m. Interment will take place in the Elwood Cemetery. The family suggests that donations may be made to the Huntsman Cancer Institute in Roger's name.